Product Description
SDIC is a strong oxidant, which can effectively kill pathogens, bacteria, viruses, infectious diseases in the water and live bait, etc, control of pathogenic microorganisms and dissemination.
SDIC has strong bactericidal ability, has no harm to humans and animals, and does not cause secondary pollution to the environment. SDIC is an environmentally friendly germicidal disinfectant that does not produce carcinogens, and has significant effects in sterilization, food preservation, and deodorization.
This SDIC can increase the dissolved oxygen of the water environment, to reduce the chemical oxygen demand and ammonia nitrogen values, to avoid eutrophication, provide the appropriate environment for aquaculture water.
Swimming pool disinfection

SDIC, as a new high-efficiency special disinfectant for swimming pool and sauna water treatment, can quickly kill intestinal pathogenic bacteria, pyogenic coccus, pathogenic yeast and inactivate viruses. The effect is stable and long lasting.
Sodium dichloroisocyanurate (SDIC) is a chemical compound used as disinfectant, biocide, industrial deodorant and detergent. It is found in some newer water purification tablets/filters. It is more efficient than formerly used water disinfectant. Mechanism of action is the release of chlorine in low concentrations by constant rate.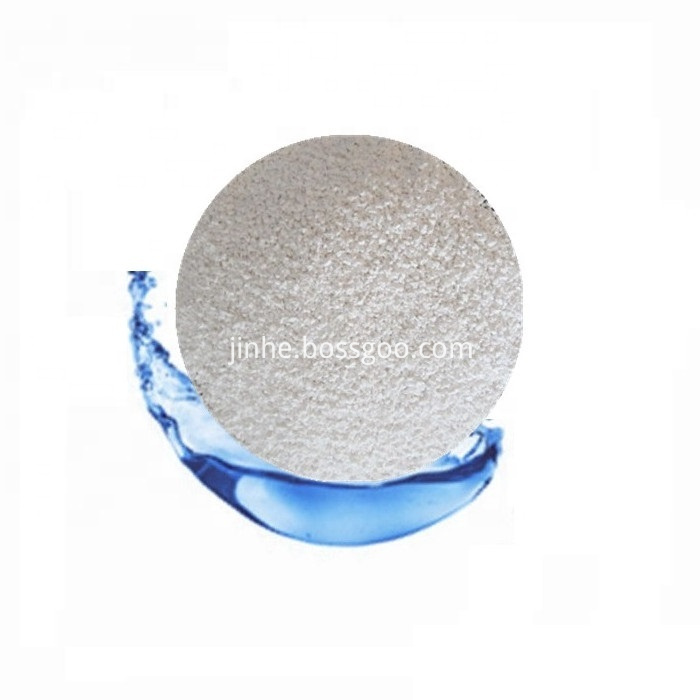 Chemical & Physical Properties
Appearance:White Powder, tablets, granular
Molecular formula: C3HCl2N3O3.Na
Molecular weight: 219.95
CAS No.: 2893-78-9
HS No.: 2933.6929.10
DG Class: 5.1
1) Be used in swimming pool and drinking water treatment, clean the industrial circulating water.
2) Be used to sterilize tableware, and as preventive disinfection of house, hotel, hospital and public place; used on the environmental sterilization of raising fish, silkworm, livestock, poultry and so on.
3) Be used to bleach the textile, to prevent wool from shrinkage, to stop eating paper by moth, and act as rubber chlorination.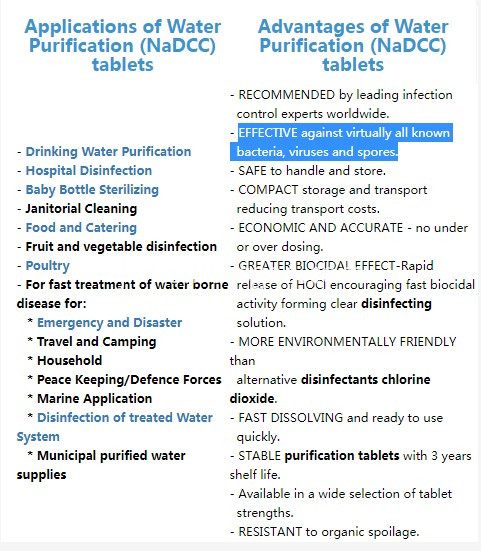 | | |
| --- | --- |
| Items | Specifications |
| appearance | White 8-30mesh/20-40 mesh |
| available chlorine | 56min |
| moisture | 5-10% |
| PH VALUE | 5.5-7.0 |
| Content of water % ≤ | 3-7 |
| Effective content of chlorine % ≥ | 56-60 |
Sodium dichloroisocyanurate is a white powder or granular solid. It is the broadest, most efficient and safe disinfectant among oxidizing disinfectants. It is also the leading product of chlorinated isocyanurate.It can kill all kinds of pathogenic microorganisms, such as bacterial spores, bacterial propagators and fungi, and has specific killing effect on hepatitis virus. It can quickly kill and strongly inhibit cyanobacteria, red algae, algae and other algae plants in circulating water, cooling towers, pools and other systems.It can kill sulfuric acid reducing bacteria, iron bacteria and fungi in circulating water system.
Dichloroisocyanuric acid is a kind of highly effective, broad-spectrum, new type of internal bactericidal agent, which has a strong killing effect. At 20ppm, the bactericidal rate reaches 99%. Can kill a variety of bacteria, algae, fungi and bacteria. The chemical properties of sodium dichloroisocyanurate are stable, and the effective chlorine decreases by less than 1% within six months after preservation under dry conditions, which is convenient for storage and transportation.It is safe, easy to use, low dosage and long duration.
If you have demand on EDTA, EDTA-2NA, EDTA-4NA, TCCA, SDIC, Activated Carbon, Poly Aluminium Chloride, Polyacrylamide, pls contact me freely.